It Wasn't Vegas....
I'm back from the Las Vegas trip that was really Madison, Wisconsin. Las Vegas lacked a skating facility that met International Skating Union requirements, so the Short Track competition scheduled for the weekend of the American Thanksgiving was moved to Madison, Wisconsin.
We had mostly good weather that weekend. I left Grand Rapids at 7:00 a.m. on Wednesday the 24th and made it to the west side of Chicago before I ran into snow which stopped in Rockford, Illinois, about an hour up the road. I only missed one exit which wasn't a big deal because it was an exit onto the toll road which was one lane due to construction. Thus the regular road was just as fast as the toll road.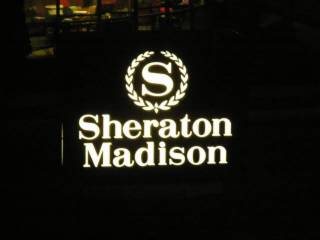 \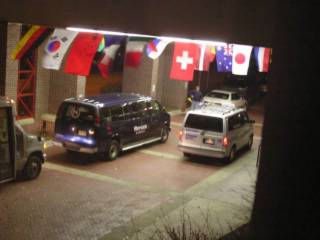 We got a good deal on our room. The usual rate was $250 a night, and we paid $89 a night. We were also lucky in that the race organizer's office was in our hotel so we had easy access to answers to our questions. We also ran into a number of the skaters as most of them stayed here too.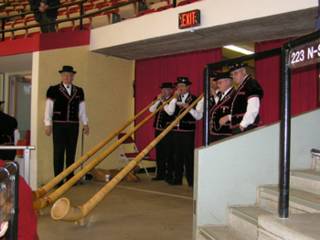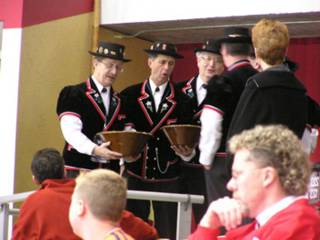 a

As everyone knows, Wisconsin is famous for cheese, and who else is famous for Cheese? The Swiss!
Okay, I don't know if the part about the Swiss is true; I think they make chocolate, but, on Sunday, we were treated to Swiss Yodelling and a performance on some type of Alpine horn (I think that's what it was) between races.
And of course, there was skating:
The kid in the red and blue uniform is Alex Izykowski from Bay City, Michigan. Orginally, Alex wasn't scheduled to skate in the individual events in this competition because each country can only enter three skaters in individual events, but Rusty Smith was injured in the first or second round of races on Friday and was unable to skate at all on Saturday or Sunday. Alex took Rusty's place in the races on Saturday and Sunday. This picture is from his second 500m heat. He finished third so didn't advance to the next round, but I think this competition is the first one in which he has skated individual events, so he didn't do too badly, especially with a Canadian skater and a Chinese skater in the same heat.
Rusty's injury also meant that the U.S. men had to pull out of the relay. The rules state four different skaters must participate, and we only sent four to the competition. With Rusty unable to skate, we only had three able to skate the relay.
The U.S. ladies relay team made it to the semi-final round. They were in first, with a big lead over everyone else when one of the U.S. skaters slipped on an exchange, and they dropped to fourth. They fought back and finished third, just inches behind the second place team. Had the race been even a few feet longer, they probably would have finished in second and advanced to the final.
Despite withdrawing from the men's relay and the women's relay team being eliminated due to a mistake, the Americans did pretty well. Two women placed in the top six, and we haven't had even one woman in the top six since sometime in the nineties. We also had two men in the top six. Skaters in the top six receive $$$, not a lot, but it's still dough.
The ladies relay team set a new American record, and Hyo-Jung Kim (she's Korean American) set a new American record in the ladies 1000m quarter final then turned right around and broke her own brand new record in the semi finals. She went on to take the gold medal in the final. She's only sixteen years old, so watch for her in the 2006 Olympics: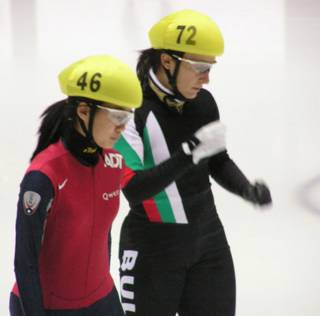 Next to Hyo-Jung in this photo is Evgenia Radanova of Bulgaria.

And, the guy with the unusual name (Apolo Ohno) who likes to win medals: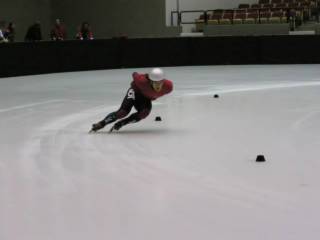 He told the media he was angry with himself after finishing second in the 500m because he had hoped to come to Madison and win a lot of medals. He won a medal in every individual event, three golds and the silver in the 500m. Sounds like a lot of hardware to me.

For Canadian fans, here's one to watch: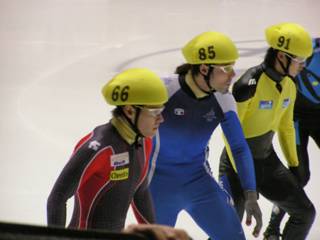 This is Mathieu Turcotte from Montreal, Quebec lining up for his 1000m heat. He finished second overall behind American, Apolo Ohno, and won a gold medal in the men's 500 meters, the only individual race Apolo didn't win. Mathieu and teammate, Charles Hamelin also gave Apolo a good chase in the men's 3000m.
Pictured with Mathieu are six time European Champion, Fabio Carta of Italy, and Junji Ito of Japan.