Short Track Photo Shoot
I'll be attending an international World Cup competition for short track speedskating in November. For safety reasons, flash photogrpahy is not allowed during the races. If I want race photos I'm going to have to use the manual settings on my camera, and that will require practice. I took these photos at a practice session of
The West Michigan Speedskating Club
to get a bit of practice.
I was surprised that I was able to time my shots so as to catch some of the skating. I took about 45 pictures and only had one picture where the skaters sailed out of the photo before I could snap it, leaving me with a shot of blank ice. Of course, none of these skaters moves as fast as
Apolo Ohno.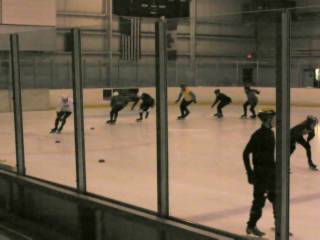 These photos were taken with a shutter speed of 250, aperture of 2.8, and ISO 400. EV was +1.3. All photos came out dark and were lightened with Photoshop.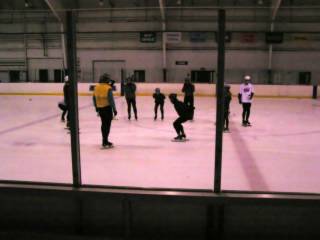 My battery died just as practice was ending. I had a spare, but, without it, I managed to get this shot of the coach demonstrating an at home exercise the skaters can do to improve their balance and strengthen their leg muscles.

This club practices every Tuesday evening. It's a challenge for me to get there after work, but, as you can see, I need to practice a bit more, uh a lot more before the World Cup in November.